Our website offers lots of useful resources to help you learn many languages easily and in a fun way. But of course, there are lots of other great language learning sites out there on the interwebs. Let's take a look at the best free language learning tools out there, ranging from professional but dated products to the up-and-coming websites of the future.
This lesson is part of the chapter "Learning languages".
Learning a new language can be a daunting task, with many feeling that the only way to overcome the challenges is by burning money. That will help me with mein Deutch, ja? Not necessarily. Signing up for a professional course, traveling abroad, getting expensive textbooks and finding a great tutor are indeed a proven way to learn a language, but what if you could save the content of your wallet from extinction? After all, we do live in the age of free information! The good news? There are tons of great resources on the web, readily available for the eager language learner. Flashcard apps, dictionaries, social sites, and so on, there is indeed a resource for every need. Many of the sites and tools in our list are based on a method called gamification, meaning your language learning experience will be presented in a game-like manner. And fun it is! Remember, the best language learning tool is not the cheapest or most shiny one, it's the tool that works for you. Still, a few free resources couldn't hurt now, could they?
1. Anki

What is it?
Anki is a free, cross platform flashcard program with great web and mobile clients. Every day the program constructs a list of words, consisting of a healthy mix of weak and new words. Anki is mostly for language learning, but you can also use it for memorizing nearly anything – equations, medical terms, you name it!
Pros
Lots of complete flashcard sets, called "shared decks". Looking for them' elusive Korean-Spanish flashcards? Anki's got a deck for that. The program is also highly customizable, you can develop your own decks, tailored to your personal needs!
Cons
The user interface can be frightening at first, and it's not the prettiest of the bunch either. There are a few synchronization niggles, but nothing that cannot be overlooked.
Check it out: Download the Anki app | Visit Anki web
2. Duolingo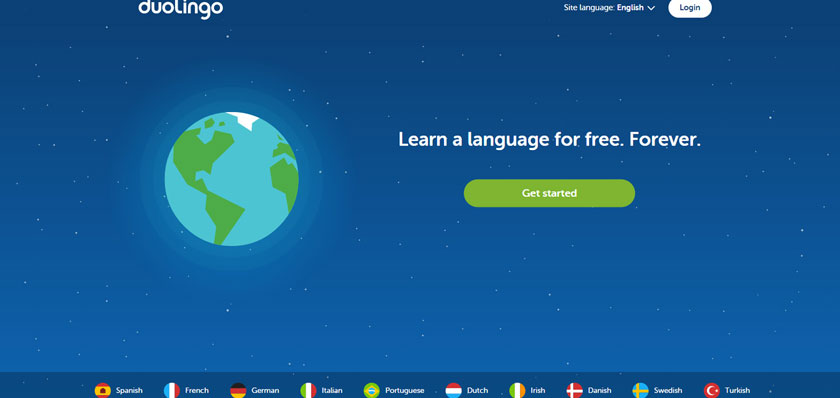 What is it?
The guys and gals at Duolingo believe that learning should be fun, and that's why they created a program that matches the fun of gaming with the usefulness of language learning. The result? Your new daily addiction. The site boasts a sleek, very straightforward design, making it easy to use for all ages and nations. The modules are responsive, if you cannot learn something, the software will adjust the courses for you, adding regular revisions to your mix. Lessons are colorful, and once you get the hang of it, Duolingo is hard to put down.
Pros
The careful balance of rewards and progression at Duolingo makes your language learning fun and addictive! Try it yourself with that language you have always had difficulties with, and experience the joys of flying through Duolingo's language trees. Duolingo's best part is probably motivation. Their mascot, a little owl, is surprisingly successful at pushing you forward!
Cons
The site relies heavily on intuitive language learning, but sometimes you still need someone to explain grammar, and Duolingo has room for improvement here. The whole thing is crowdsourced, meaning the occasional silly sentences do make it into the final product – if there is such a thing. Also, it's seriously addictive!
Check it out: Visit Duolingo
3. Memrise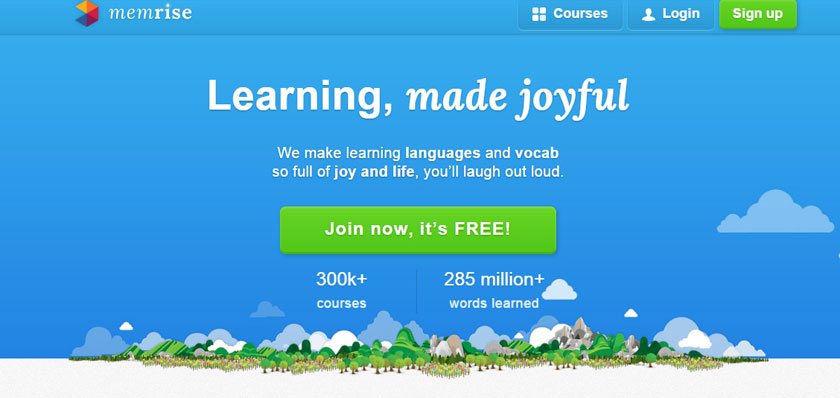 What is it?
Memrise is another fun-filled, flashcard-based language learning tool. The site focuses on memorization, during which you will earn awards and points for every successful card. The key here is once again gamification, and who wouldn't want to compete with their buddies and learn at the same time? Another great thing about Memrise is their intense use of mnemonics. Meaning? You don't simply learn words, rather you are shown flashcards designed to formassociations and connections in your mind! Give it a try, it sounds more complex than it is.
Pros
Memrise is free, web-based, and has iOS and Android apps, what's not to love? There are a ton of courses out there, helping you with your journey of mastering a new language! Overall a great tool. Oh and almost forgot, they have the clouds floating left and right on their landing page, which is nice.
Cons
The courses are mostly crowdsourced, and sometimes it's hard to find a decent one. Some say that Memrize can be a bit repetitive sometimes, but again, language learning does require patience and time!
Check it out: Visit Memrise
4. Busuu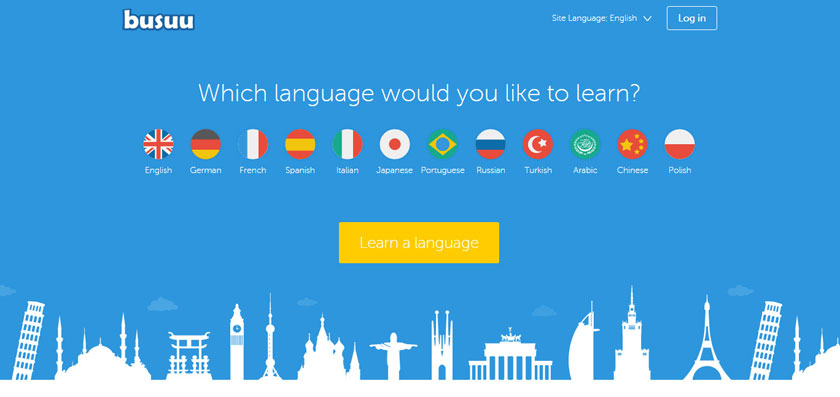 What is it?
Busuu tries to mate language learning with social networking, and so far the experiment is going great! Only some of the features of Busuu are free, but those or so good that we have to include it in this list. Busuu has loveably courses with solid lessons and a chance for networking with other learners!
Pros
Useful mobile app, well-developed courses, great for beginners! If you are into networking and consider yourself quite a sociable person, Busuu is the place to be! The response and grading times – compared to the similar Livemocha – are noticeably faster, and the conversation practice factor of Busuu is invaluable.
Cons
Busuu is not complete free, unfortunately. You have to pay for premium features like video lessons, grammar-focused presentations and printable PDFs. Still, there's a 7 day trial membership, if that's what you're into!
Check it out: Visit Busuu
5. FSI Languages Courses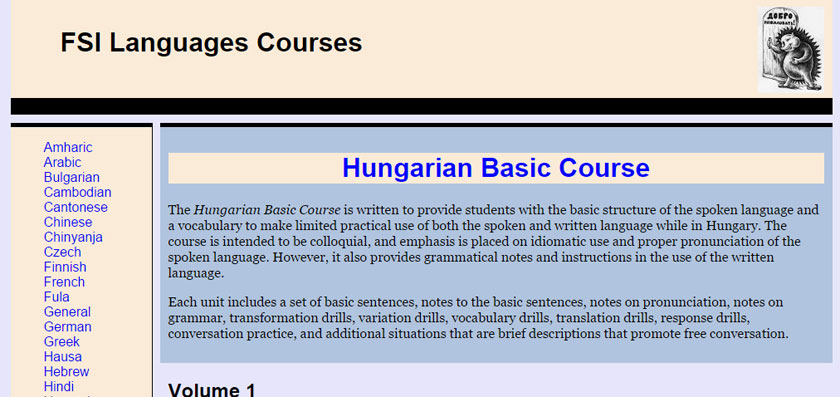 What is it?
Don't let the looks fool you. While the website may look oldschool, we are talking about free language courses provided by none other than the American Foreign Services Institute. It does not get more official than that! The materials are easy to understand, no wonder, this stuff was designed by professional linguists.
Pros
If you are looking for a basic approach to less common languages from Amharic to Yorube, this is the place to be. Their language list is impressive, the courses are well designed. You essentially get professional language books here.
Cons
The site is out of date, the same applies to courses. While the stuff is top-notch, you can still see a few wrinkles when it comes to modern language learning methods.
Check it out: Visit FSI languages
6. Livemocha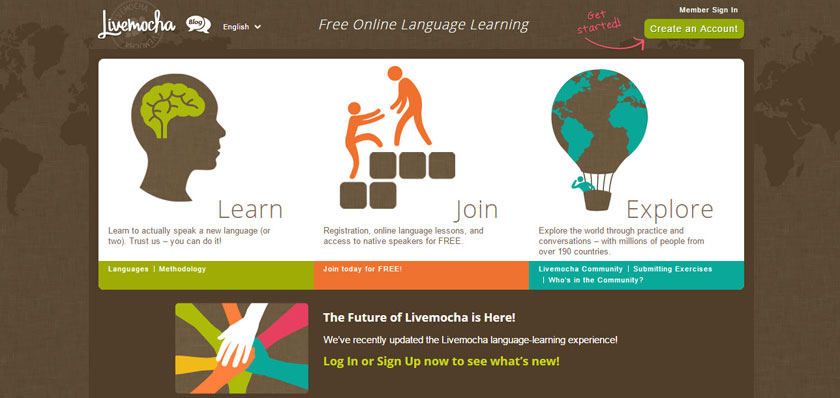 What is it?
Livemocha is one of the best language learning tools. Imagine a place where you can be matched to a professional tutor in minutes! Yep, that's Livemocha. The site also offers great courses, designed to ease the stress of language learning. You can even send in audio samples – your readings – to be rated by natives, which is an awesome and often overlooked feature!
Pros
Livemocha has lessons in a staggering number of languages, over 36 at the latest count. Premium membership is not free, but the key here is that if you provide tutoring in your language, then you can earn your own language education!
Cons
Registering to Livemocha can be troubling at some points, and if you upload a hot profile pic, you might get some unwanted advances as well. Finding the right language learning partner could be time consuming, but just like anything, it takes a little dedication! Speed is another issue with the mocha, grading a text can take hours, and in some cases, days even!
Check it out: Visit Livemocha
7. Babbel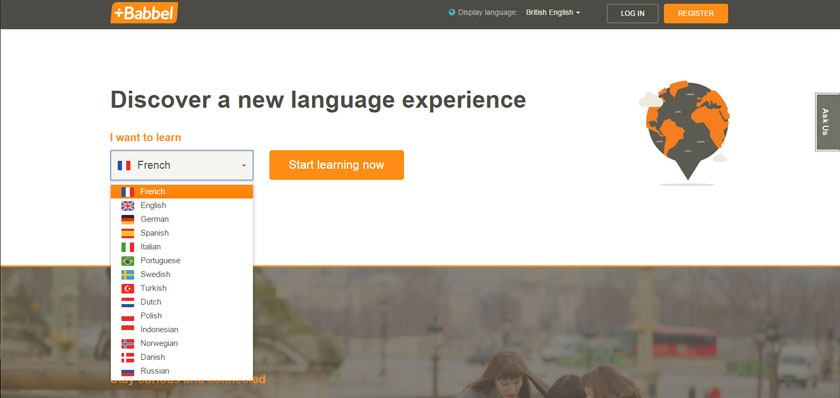 What is it?
Babbel has a rich variety of courses, where each lesson is made up of a vocabulary, dialogue, grammar and review part. Each lesson takes about 10 to 15 minutes to complete. Then at the end of the lesson you are given a numerical grade, handy right? The German company even won the European Award for Technology Supported Learning.Babbel's focus on building basic conversational skills, and the introductory tutorials are also useful.
Pros
Babbel provides intuitive user experience with sleek design. The content is really one of the best out there, precise, with wonderful examples. The grammar explanations are clear, on the level of professional text books.
Cons
Babbel lacks the trendy gamification element of others, and such it can dry up pretty quickly. We wouldn't date to call Babbel boring, but it can get tedious sometimes. Also, complete courses are not free. You can get a subscription from $7.45 to $12.95 a month, which is a very good deal for such amazing content – and such it even has a place in a free language learning tools top list.
Check it out: Visit Babbel
8. Polyglot Club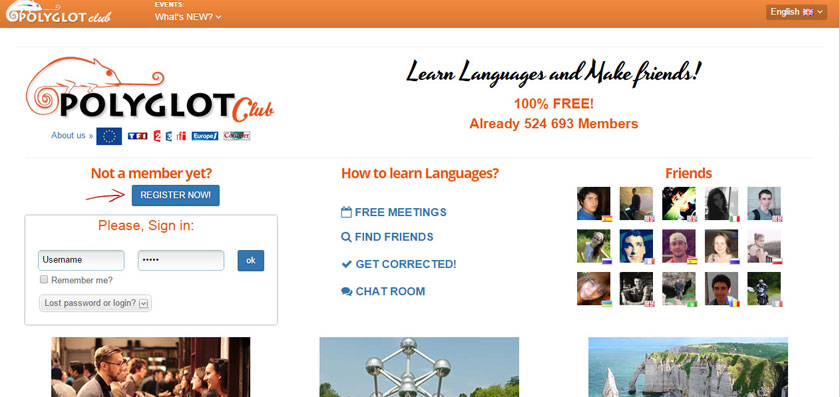 What is it?
Polyglot Club is an interesting one. It is a language exchange social network, as they like to call themselves. What does that mean? The Polyglot Club is a community based website, designed to cater to a worldwide audience, where users can participate in online and offline language exchanges. The site is essentially a platform for you to find language exchange buddies. Big words, right? With more than 400,000 members, located in a staggering 151 countries, it is safe to say, the Polyglot Club does deliver on its promises!
Pros
Great for students, expats, backpackers, anyone really, who is interested in learning a language on the buck with a likeminded fellow. Engaging in an exchange is simple, and the diversity of the site is amazing. Polyglot Club enables you to find the right match to practice language exchange, and that's awesome!
Cons
Finding someone is easy on Plyglot's site. Finding someone for a long-term exchange can be trickier. Just like in real life, you don't always get what you want – but thing do generally turn out great!
Check it out: Visit Polyglot Club
9. Forvo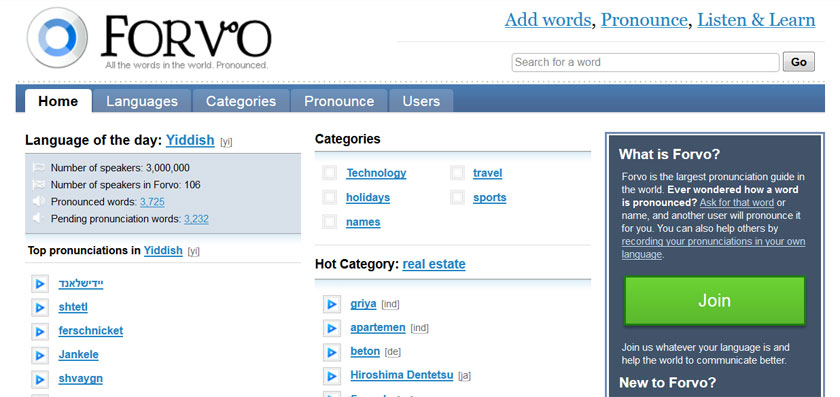 What is it?
Pronunciation is an area of language learning that gets left behind a lot. Granted, vocabulary and grammar are important building elements of a language learning process, but pronunciation should be just as important. Luckily, Forvo recognized the need for such a free language learning tool and decided to build a site on the notion. The site is crowdsources, but don't let that scare you away – it boasts one of the most impressive free database out there! The most frequently learned languages have more than 50,000 or even 100,000 pronounced words – all done by enthusiastic natives!
Pros
Forvo is free and extensive. Their site could look more "hip", but it is really the best pronunciation tool out there right now. If you need more convincing, look at the numbers: 2,891,004 words 3,037,933 pronunciations 325 languages. Yes, Forvo is quite comprehensive.
Cons
The recordings are reviewed, but sometimes they are just not perfect. Also, if you are looking for a more extreme language or word, you might find yourself in a tight situation.
Check it out: Visit Forvo
10. Language Learning Tips of Reddit's r/languagelearning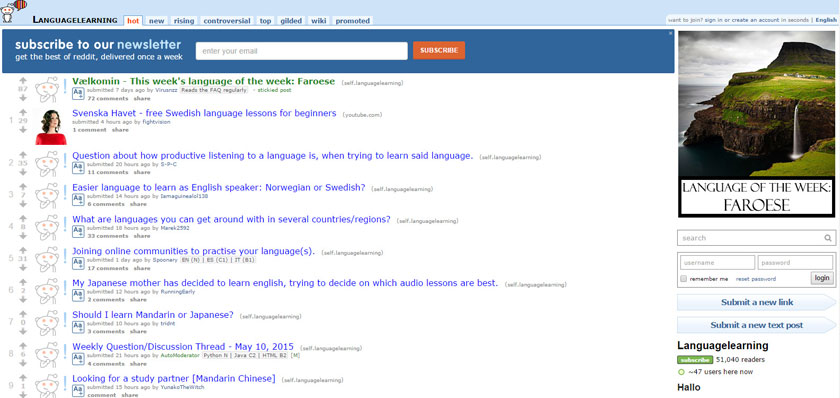 What is it?
Reddit is a popular message board-like platform where people can start groups (subreddits) on any topic from sports to memes, and yes, language learning. What's different from regular forums is Reddit's very own algorithm, allowing people to vote positively on topics and comments alike. The result? Great discussion, relevant topic, thriving communities! One these communities is the "languagelearning" subreddit, found under r/languagelearning.
Pros
The site has a very active community of 51,000 readers. With weekly discussions, language of the week topics and a helpful user base, you can get an answer for any linguistic question. The subreddit's sidebar is a wealth of information for every language learner out there, making r/languagelearning one of the best free language learning tools ever.
Cons
Reddit can be quite intimidating at first. There's no shame in feeling lost the wall of text that greets every first timer, but fear not, you will soon get your bearings!
Check it out: Visit Reddit
What's next?
There you have it. We have shown you general flashcard tools, language learning tips, solid and proven methods, colorful language exchanges, pronunciation helpers and even complete, professional language courses. What's left? Going out there, into the wild!
+1: Couchsurfing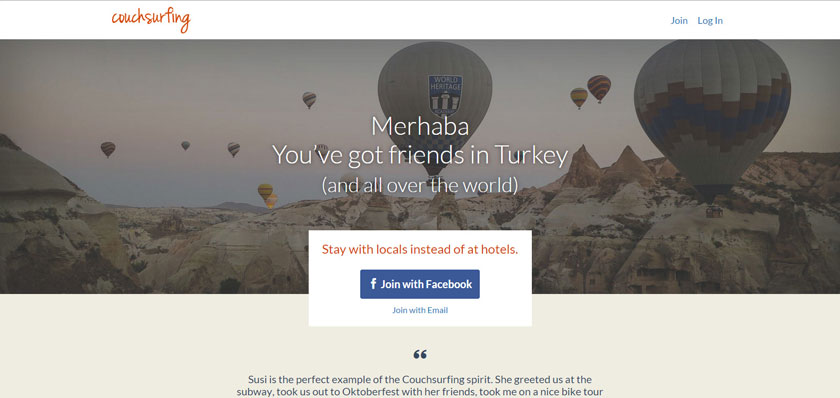 What is it?
Couchsurfing is a site, something like a traveler's exchange. Locals of a city offer their couch for travelers, all in the spirit of cultural exchange and getting to know each other. There is no money involved in the process. Travelers get a free place to sleep, locals get to invite the world, with its colorfulness and stories into their living room. A win-win for all! Couchsurfing can also be used as a language learning tool. You don't have to offer up a couch, you can meet travelers just for a cup of coffee – an ideal platform to meet and great travelers speaking your desired language!
Pros
Couchsurfing can be an invaluable experience, and we are not just talking about language learning here. Trying what you have learned in action is a joy indeed, but meeting people of various cultures is rewarding on a more humane level!
Cons
If you are interested in a more wacky language, your chances will diminish in finding a Couchsurfer buddy in your city. Also, for this to work, you should probably live in a major metropolitan area!
Check it out: Visit Couchsurfing
Off you go!
We live in a wonderful age with language learning resources at our fingertips, just a click away. The key to a successful learning approach is about constructing the right mix of materials for you. There is no silver lining here, everyone is different. One method might work for some and fail for others. Just remember that learning a new language is an ongoing effort, and mastering a language might take some time. While in the past it seemed that sipping mojitos on an exotic beach was the most fun way to clock in these hours, with these exciting new free language learning tools we are almost there in terms of the fun factor. Happy language learning! Share your thoughts in the comments…