Language
Do You Speak English?
Romanization
Pronunciation

هل تتكلم الإنجليزية؟, هل تتكلمين الإنجليزية؟

hal tatakalam al enjliziyah?, hal tatakalameen al enjliziyah?

Դուք խոսո՞ւմ եք անգլերեն:

Znaš li pričati engleski?

Znaš li pričati engleski?

Kas te räägite inglise keelt?

क्या आप अँग्रेजी बोलते हैं ?

Kya aap angreji bolte hain?

Apa anda bisa berbahasa Inggris?

តើអ្នកចេះនិយាយភាសាអង់លេទេ?

tae nak chehniyeay pheasaea ang le te?

Young uh hal jul a sae yo?

Vai jūs runājat angliski?

Czy mówi pan po angielsku?
Czy mówi pani po angielsku?

Вы говорите по-английски?

Vy govorite po-angliĭski?

Знаш ли причати енглески?

Znaš li pričati engleski?

Kun Pôot Paa-Săa Ang-Grìt Rĕu Mâi

İngilizce konuşabilir misin?

Vy hovoryte anhliĭs'koiu?

bạn có nói tiếng Anh không?
Did you know you can learn all those
languages for free with App2Brain?
Click here to choose the language you'd like to learn:
App2Brain offers you comprehensive lessons to learn a wide range of languages from all over the world. Our goal is to provide you with everything you need to get started writing, understanding and actually speaking your language of choice, and making your language learning journey as fun and efficient as possible.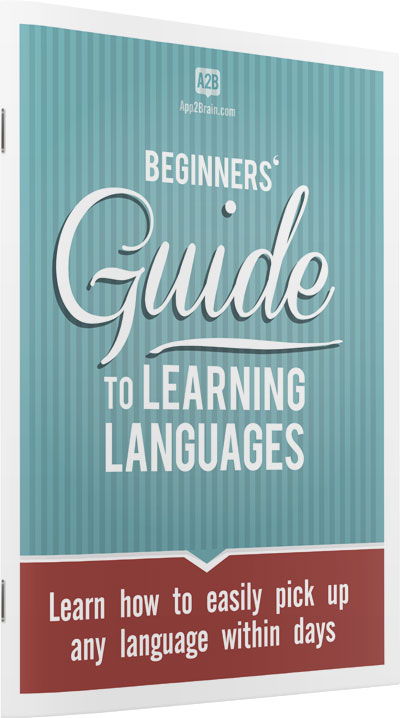 Download your free language learning guide
Our free 18-page PDF ebook will teach you how to:
Get (and stay) motivated learning a new language
Achieve 80% of your goals with only 20% of the effort
Make your learning experience more fun than ever